BENEFITS CONSULTANT REPORT
HealthJoy Insights: Member Health Goals

At HealthJoy, we strive to provide benefits consultants with data and resources that will help them build the most impactful strategies for their clients. The "HealthJoy Insights" report leverages the power of our proprietary member-generated data to provide key insights to help employers and their benefits partners achieve better health outcomes and reduce wasteful spending.

Our first-ever "HealthJoy Insights" report uncovers a striking difference between the type of benefits members want versus what employers know is needed to drive successful long term health outcomes.

The report includes several insights based on aggregated member data including:
Gen Z and Millennials are more likely to identify health goals.
Nearly half of U.S. adults have hypertension and 14% have diabetes, but far fewer members set a goal to address these chronic conditions.
35% of all members expressed interest in managing back or joint pain.
We've also included actionable solutions to explore based on these key insights.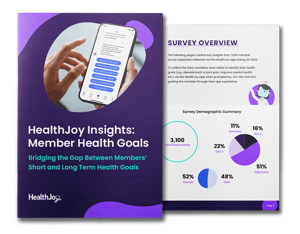 Download your copy to help inform the strategies you're building for your clients
1,000+ companies enjoy a better benefits experience thanks to HealthJoy Adored by Employees, Loved By HR
HR team regained 50%
of their time
staff helped over 1,000 times in the first three months
Nueterra Capital's
telemedicine savings soared to $524K