MEMBER STORY
Simplifying Care with Navigation Support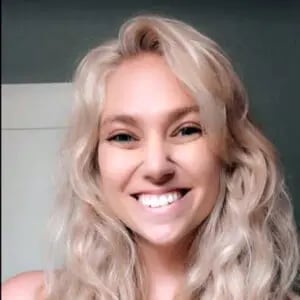 AUDREY JENKINS CONCIERGE SUPPORT MEMBER STORY
How HJ's Healthcare Concierge Team Made One Member's Healthcare Journey Less Painful
Whether it results from injury, activity, or aging, back pain can be a royal pain. Around October of last year, a "wicked" skateboarding injury rendered HealthJoy member and GlobalTranz employee Audrey Jenkins nearly immobile.
Finding relief meant navigating a maze of provider visits, imaging appointments, second opinions, and of course, bills. Audrey, a Data Analyst from Tempe, Arizona, was quickly overwhelmed. Frustrated, she turned to HealthJoy's healthcare concierge team.
"If I had done the research into providers myself, it would've taken weeks for me to actually get the motivation to even begin. It's been such a huge help, and it really takes a lot of the stress off of me."
Simplicity at Her Fingertrips
Finding providers that met her preferences was only one component of Audrey's care journey. Her back injury eventually required surgery the following February. And while it seemed afterward like she was making great strides toward a pain-free path, things took a turn for the worse.
"The first little bit, I was doing fantastic, and then I started PT again, and it just collapsed on itself. A bunch of neurological issues came along with that as well."
In addition to Find a Provider, Audrey used Find a Facility and Find a Procedure to monitor and manage her injury. Audrey used Find a Procedure to find low-cost options whenever her provider recommended an X-ray or MRI to check on her progress.
Imaging procedures can vary by as much as 10x even within the same network, but with HealthJoy, Audrey always knew she was selecting the best option.
A Different Level of Care
HealthJoy's concierge services made it possible for Audrey to assemble her care team — from the physical therapist and chiropractor to the orthopedic surgeon and neurologist to a second orthopedic surgeon and a second neurologist to a pain management specialist and a second physical therapist — based on her specific preferences.
However, what she found most impressive had nothing to do with the app at all, but the people behind the scenes.
"The concierge team members were super courteous and very personable," she said. "I once asked them to reschedule an appointment for me, and the concierge I spoke to was on hold for an hour or so on a Friday afternoon right before the Fourth of July. She was just so dedicated to getting me a result right then."
Overall, Audrey describes her HealthJoy experience as "10 out of 10."
"You know how they ask you at the bottom of a webpage 'how likely are you to tell your friends?' I've been bragging about the app since I got it. And the fact that all of your concierge members show a genuine level of care and dedication — I'm just blown away by my exceptional experience, and I'm so thankful HealthJoy is here."